RUD TECDOS TS: The Revolution in Tool Handling
RUD's Tool Separator not only optimises work processes, but also ensures workplace safety during operation
No more need to use sledgehammers and tyre irons to open massively heavy tools by hand! The RUD TECDOS TS makes tool handling safer and, importantly, much faster. This innovation opens injection tools, punching tools and forming tools in a matter of seconds, once again revolutionising production, service, and maintenance processes. By optimising these processes, the RUD TECDOS TS can pay for itself in less than a year. And that's great news, not just for managers, workshop managers and controllers, but also for health and safety officers and employees themselves. Working with the RUD TECDOS TS is especially safe and ergonomic. This makes the RUD TECDOS TS the ideal companion to the RUD TECDOS TM, RUD's tool-handling machine.
"The RUD TECDOS TS is a real milestone in the history of safe and efficient tool handling", stated Anne Kühling, Product Manager in RUD Ketten Rieger & Dietz GmbH u. Co. KG's Conveyor & Drive division. "The initiative for our latest development came directly from the market. No wonder: companies often have to separate massively heavy tools by hand, using cranes, sledgehammers and tyre irons. Depending on the tool, this can take between 30 minutes and three hours, and take up the time of up to three members of staff. Other machines, such as injection moulding machines or die-spotting machines, might also be put to use to separate the tool. This is very inefficient and has a direct impact on operating costs. A solution to this problem had to be found urgently", continued Kühling.
Separating tools in a matter of seconds.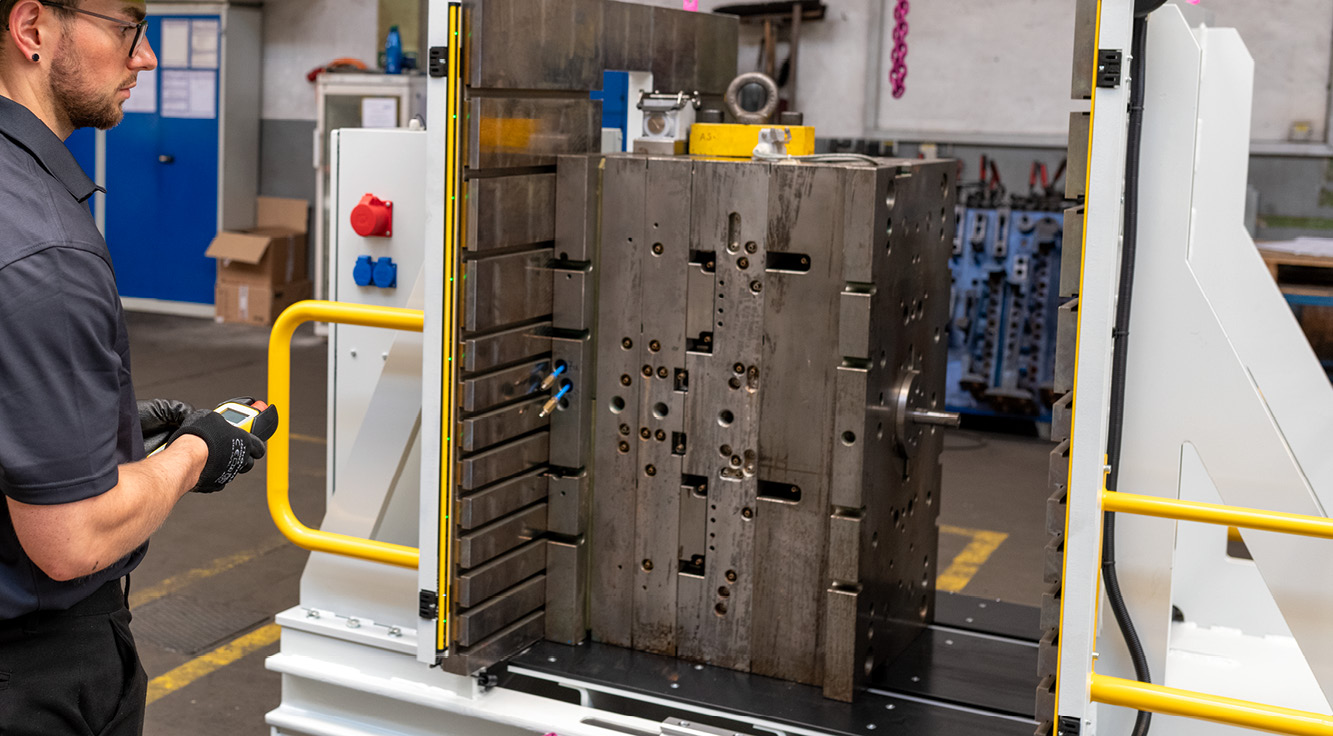 The new RUD TECDOS TS does exactly that. Instead of taking three hours, and involving three members of staff, RUD's innovation needs a maximum of five minutes and one person to complete the entire process. The RUD TECDOS TS operates with an opening and closing force of 50 kN (corresponds to 5 tonnes). A PLC control system ensures effective operation. Carefully controlled force and speed ensure tool halves can be opened gently and closed accurately: operators can set the degree of force from a theoretical 0 kN to 55 kN, and set speeds from 0 mm to 2,000 mm per minute.
A lower working height means better ergonomics
Using the RUD TECDOS TS not only protects expensive tools, but also safeguards the joints and vertebrae of its operators. At only 380 mm high, the contact surface ensures work can be performed safely and ergonomically. And yet another benefit: after opening, the operator can work directly on both halves of the tool while it is held securely in the RUD TECDOS TS. This reduces the downtimes required for maintenance. Safety is guaranteed at all times. It is simply not possible to operate the RUD TECDOS TS, either by pressing buttons on the machine itself or by remote control, if anyone is standing between the two halves of the tool.
Compact design thanks to an electrical drive.
The RUD TECDOS TS is driven electrically by RUD's innovative TECDOS Pi-Gamma 2-in-1 chain drive system, which was specially developed for horizontal and vertical applications. This system is based on a high-performance round steel chain, also developed by RUD. The drive system is especially robust, low-maintenance and with a long service life.

"The RUD TECDOS TS's electrical drive is its distinctive feature, because it operates entirely without hydraulics. A hydraulic drive not only needs more maintenance, but also takes up more space because of the additional hydraulic unit. In contrast, the RUD TECDOS TS is a compact all-in-one system", explained Walter Lais, Designer at RUD Ketten Rieger & Dietz GmbH u. Co. KG. "Its compact construction means we've been able to bring its contact surface down to 380 mm, which is very low. That makes it an excellent, ergonomic working height for operators."
Perfect handling for any tool.
In its standard version the RUD TECDOS TS is sized for tools weighing up to 10 tonnes, but it can also handle lighter or heavier tools with ease. The Tool Separator has a 1,300 mm x 1,300 mm clamping plate and a sliding and contact surface at a height of 380 mm. "Theoretically, anything is possible here: we can adjust the machine to handle lighter or heavier tools, greater or lesser forces and smaller or greater distances between the clamping plates. We can also modify the plates themselves, depending on what is required", stated Lais. The RUD TECDOS TS can also be moved by crane, so it can be used just where it's needed.

To ensure the greatest possible safety in the workplace, optional add-on parts, such as a guard bracket, can be installed to complement the automatic stop function which triggers as soon as anyone is detected on the Tool Separator. A light curtain or protective fence can also be supplied to optimise safety in the working environment. Thanks to its radio-controlled operator devices, the Tool Separator can also be operated safely and conveniently outside the danger zone.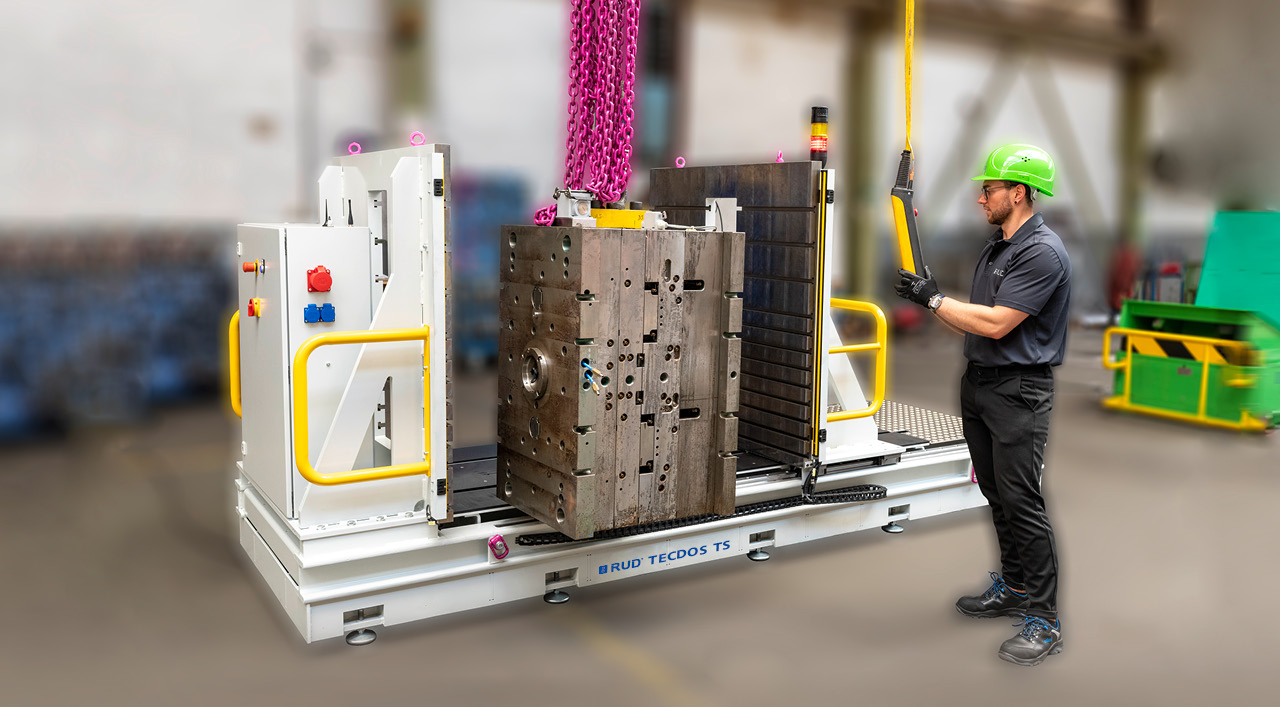 The dream team for tool handling: the RUD TECDOS TM and the RUD TECDOS TS.
RUD's latest generation of tool movers, the RUD TECDOS TM, has already revolutionised the way in which tools are serviced and maintained. The RUD TECDOS TS is the logical addition to the range. "With the RUD TECDOS TM and the RUD TECDOS TS we really can offer the "dream team" for optimising costs and processes, and ensuring that tools are handled safely and ergonomically, now. And that applies across the most diverse applications: from tool manufacturing to metal stamping and bending technology, aluminium die casting and injection moulding to the automotive industry and the packaging and container industries", said Anne Kühling. "Having two separate machines also helps reduce the waiting time for employees, because they can work independently of each other."
RUD TECDOS TS